I'm pretty sure every Friday when I begin my blog post, the first thing that comes to mind is "It's finally Friday!!" and I'm sure having that feeling today. It's been a good week overall, but there's just nothing like Friday! Here's my lovely letters for the week!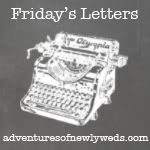 Dear weekend please be restful and relaxing! After the chaos of last weekend, I could use a weekend full of naps and catching up on stuff around our house. Dear God you truly are my rock and my everything. I think I need you even more as we approach the Christmas season. You know the struggles of my heart, and I thank you for your abundant grace for me. I want to be a woman, wife, sister, friend, etc who reflects you and your heart at all times, so please continue to help me with that. Dear Mom I'm soooo excited that I'm less than a week away from seeing you! It's been about a month since I last saw you and that's just too long! I don't know how we'll ever be ok with living so far away...I'm pretty sure I'll never come to terms with it...but for now I'll savor every minute I get with you! Dear A&M Professor, you have been a God send to me! Your encouragement, advice, and cheerleading has been so inspirational and I hope to pass that on one day! Dear Andrea, you will forever and always be my best friend, no matter the distance between us or the time that passes between phone conversations. I love that you get me, know my heart, and ALWAYS have my back. I love your honesty, your encouragement, and YOU! Dear Macy, even though daddy wants you off the bed (your cat danderness doesn't help his breathing), you can still sleep in your bed next to me! This way we kind of still get our nightly snuggles! Dear Taylor, I'm so excited for the things ahead for our non-profit! It was so fun working on the website last night and I can't wait to see how everything develops! Dear husband, I'm soooo ready to spend the weekend together! I'm so proud of how hard you work and your dedication to healthy eating! Thank you for being my best friend, perfect fit, leader of our family, prayer partner, and so much more!
Thanks for reading! Who/what are you writing letters to today??